Most BTS members started their training when they were in middle school and high school. For example, BTS member, Jungkook began his trainee period when he was in middle school, and debuted when he was only around 15 years old. On June 12, 2013, BTS finally debuted with the album "2 Cool 4 Skool" under HYBE which was known as Big Hit Entertainment at the time of their debut. Now after their phenomenal success, the HYBE Corporation is home to hit K-pop groups like TXT, ENHYPEN, and SEVENTEEN.
Jimin, V, and Jungkook debuted in BTS when they were minors while other members debuted when they were 18 years old or above. So, without further ado, here is the age and birthday of BTS members, RM, J-Hope, Suga, V, Jungkook, Jin, and Jimin.
Age and Birthday of All BTS Members Explained
– Jin was born on December 4, 1992 and is 30 years old.
– Suga was born on March 9, 1993 and is 30 years old.
– J-Hope was born on February 18, 1994 and is 29 years old.
– RM was born on September 12, 1994 and is 28 years old.
– Jimin was born on October 13, 1995 and is 27 years old.
– V was born on December 30, 1995 and is 27 years old.
– Jungkook was born on September 1, 1997 and is 25 years old.
If you want to know more about BTS, make sure to check out BTS members and group profile.
BTS members were the following ages at the time of their debut in 2013: Jin was 20 years old, Suga was 20, J-Hope was 19, RM was 18, Jimin was 17, V was 17, and Jungkook was 15. Jungkook debuted at the young age of 15, making him the maknae (youngest) in BTS. But in K-pop, it is common for K-pop idols, especially the maknae line to debut at the age of 14. The age gap between the oldest and youngest member in the group is five years.
Jin is the oldest member in BTS and he joined Big Hit Entertainment in 2012 when he was 19 years old. RM is the leader of the group despite being the fourth oldest in the group and has the longest training period of around 4 years. In the third-generation K-pop group, there were many groups that made their younger members their leaders and did not rely on age to assign the leadership position. For example, B.I who is a former member of iKon, was the leader of his group and was in the same age hierarchy as RM. But in the second generation K-pop, it was commonly seen that the oldest member automatically upheld the leadership position.
Here is an image so you can get to know the age and birth dates of each of the BTS members faster: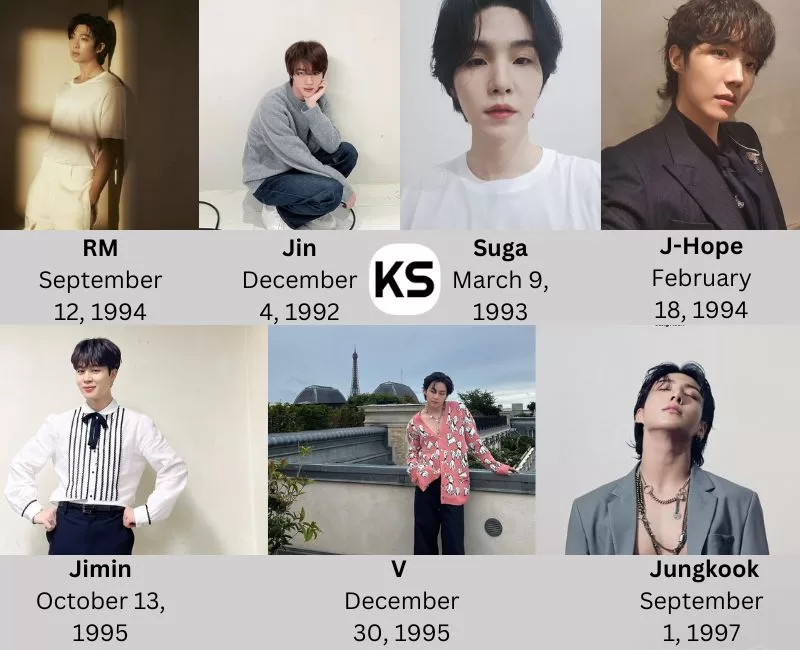 In conclusion, this wraps up the current age and birthday details of all BTS members. Next, check out how old each of the Black Pink members are.
If you want to know a recent group from HYBE launched in 2023, check out how old the members of Boynextdoor are.