Kiss of Life members started their training at a very young age. Natty started her trainee period when she was 12 and participated in the survival show "SIXTEEN" when she was only 13 years old and was subsequently eliminated due to her young age. On July 5, 2023, Kiss of Life debuted with the mini album "KISS OF LIFE" under S2 Entertainment.
Where it is common for most K-pop idols to debut as minors, all Kiss of Life members started their training as minors but debuted when all the members were 18 years old or above. So, without further ado, here is the age and birthday of all Kiss of Life members, Julie Han, Natty, Belle, and Haneul.
Age and Birthday of All Kiss of Life Members Explained
– Julie was born on March 29, 2000 and is 23 years old.
– Natty was born on May 30, 2002 and is 21 years old.
– Belle was born on March 20, 2004 and is 19 years old.
– Haneul was born on May 25, 2005 and is 18 years old.
If you want to know more about Kiss of Life, make sure to check out Kiss of Life members and group profile.
Julie Han is the oldest and the leader of the group. Similar to most second-generation K-pop groups like Shinee and Girls Generation where the oldest member usually becomes the leader.
Haneul is the maknae and unlike Natty and Belle, she was not active in the industry prior to her debut. Natty started her career at a young age similar to Julie Han, who has a trainee period of around 7 years. Julie debuted late according to the usual standard of most K-pop groups which debut when the members are around 14-18 years old. The age difference between the oldest member, Julie, and the youngest member, Hanaeul is around five years old.
Check out this visual aid to understand the age and birth dates of each of the Kiss of Life members: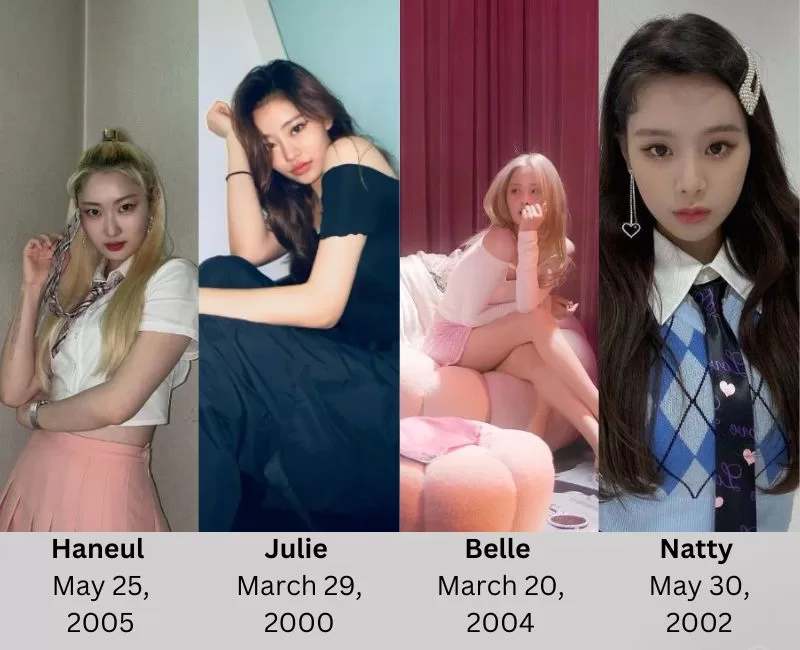 And there you have it, this concludes the current age and birthday details of all Kiss Of Life members. Next, let's find out how old the members of Rocket Punch are.
If you want to know another fifth-generation group like Kiss Of Life, check out how old the members of Zerobaseone are as they both debuted in the same month of July 2023.