Le Sserafim is a fourth-generation multinational K-pop group that debuted with the mini album "FEARLESS" in May 2021, under Source Music which is a subsidiary of HYBE, which is the label of the global sensation K-pop group BTS. Le Sserafim members began their training when they were around middle school except for Le Sserafim former member Garam who became a trainee in her elementary school. So, without further ado, here is the age and birthday of Le Sserafim members, Chaewon, Sakura, Yunjin, Kazuha, and Eunchae.
Age and Birthday of All Le Sserafim Members Explained
– Sakura was born on March 19, 1998 and is 25 years old.
– Chaewon was born on August 1, 2000 and is 22 years old.
– Yunjin was born on October 8, 2001 and is 21 years old.
– Kazuha was born on August 9, 2003 and is 19 years old.
– Eunchae was born on November 10, 2006 and is 16 years old.
Le Sserafim's former member, Kim Garam was born on November 16, 2005 and left the group on July 20, 2022 when she was 16 years old.
If you want to know more about Le Sserafim, make sure to check out Le Sserafim members and group profile.
Le Sserafim members were the following ages at the time of their debut in 2022: Sakura was 24 years old, Chaewon was 21, Yunjin was 20, Kazuha was 18, Eunchae was 15, and former member Garam was 16. The age difference between the oldest and youngest member in Le Sserafim is seven years.
Eunchae is the maknae (youngest) and she began her training period during elementary school, similar to Garam. Sakura is the oldest member of the group and she and Chaewon debuted in IZ*ONE prior to their debut in Le Sserafim. Sakura had her first debut in the Japanese group HKT48 when she was only 13 years old. Chaewon was 18 years old during her debut in IZ*ONE. It is common for the maknae line of the group to debut at the ages of 14 to 16. For example, Leeseo from IVE also debuted at the age of 14 and so did Hyein from NewJeans.
Chaewon is the second oldest in the group and she became the leader of Le Sserafim instead of Sakura, even though Sakura had more experience and is the oldest. This is because Sakura only joined Le Sserafim on the condition that she did not want to become the leader.
Here is a visual aid to better understand the birth dates and ages of all Le Sserafim members: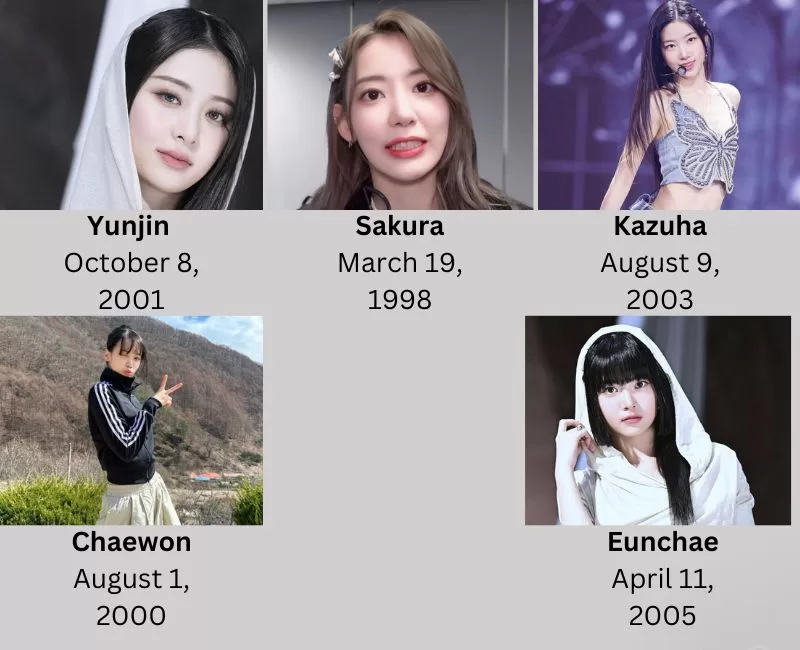 And there you have it, this concludes the current age and birthday details of all Le Sserafim members. Next, let's find out how old the members of IVE are as two of its members also debuted in IZ*ONE along with Sakura and Chaewon.
If you want to know another popular fourth-generation K-pop group like Le Sserafim, check out how old the members of Fifty Fifty are.