Black Pink members became trainees when they were in middle school and had a training period of around five years before debuting. After their long years of training, On August 8, 2016, Black Pink finally debuted with the single album "Square One" under YG Entertainment which is home to groups like BIGBANG, iKON, and their latest upcoming girl group BABYMONSTER who are considered the junior versions of 2NE1.
Unlike most K-pop groups where at least some members debut while they are minors, all of the Black Pink members debuted as adults when they were 18 years old and above similar to Fifty Fifty. So, without further ado, here is the age and birthday of Blackpink members, Jisoo, Jennie, Rosé, and Lisa.
Age and Birthday of All Black Pink Members Explained
– Jisoo was born on January 3, 1995, and is 28 years old.
– Jennie was born on January 16, 1996, and is 27 years old.
– Rosé was born on February 11, 1997, and is 26 years old.
– Lisa was born on March 27, 1997, and is 26 years old.
If you want to know more about Black Pink, make sure to check out Black Pink members and group profile.
Black Pink members were the following ages at the time of their debut in 2016: Jisoo was 21 years old, Jennie was 20, Rosé was 19, and Lisa was 19. Lisa is the maknae (youngest) and she debuted as an adult, unlike most groups where the maknae is usually around 14-16 years at the time of debut. For example, Leeseo who debuted in IVE when she was 14 years old, or Junkook who debuted in BTS at the age of 15.
Jisoo is the oldest member of Black Pink and but she did not become the leader as the group has no official leaders. Though not very common in K-pop, there are times when the group has no leaders like NewJeans. Since there are only four members, the age gap between the oldest member, Jisoo, and the youngest member, Lisa is of only two years.
If you are new to the group, here is an image so you can get to know the age and birth dates of each of the Black Pink members faster: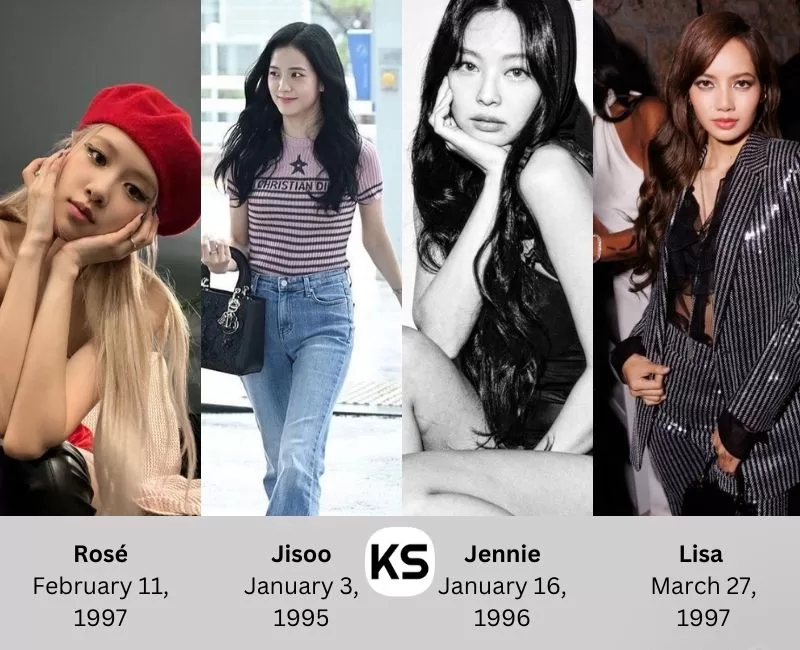 This wraps up the current age and birthday details of all Black Pink members. Next, check out how old each of the STAYC members are.
If you want to know YG's upcoming girl group which is debuting seven years after Black Pink, check out how old the members of BABYMONSTER are.