ASTRO (아스트로) is a South Korean four-member boy group that initially debuted as six on February 23rd, 2016, with the extended play "Spring Up" under Fantagio Entertainment. The group members consist of MJ, JinJin, Cha Eunwoo, and Sanha.
ASTRO Profile
| | |
| --- | --- |
| Debut | April 19, 2023 |
| Active Years | 2016–present |
| ASTRO Members | MJ, JinJin, Cha Eunwoo, Sanha |
| Genre | Pop, Hip-hop, R&B |
| Status | Active |
| Label | Fantagio Entertainment |
| Oldest Member | MJ |
| Youngest Member | Sanha |
| Former Member | Rocky, Moonbin |
| Fandom Name | Aroha |
| Official Fan Colors | Vivid Plum and Space Violet |
ASTRO Facts:
– The group's name, "ASTRO", means "star" in Spanish.
– Their official motto is "Wanna Be Your Star."
– In the current dorm arrangement, all ASTRO members have their own room.
– They were known as "i-Teen Boys" before their debut.
– ASTRO's official lightstick is called "RO-BONG (로봉)".
– After the group's debut showcase was announced, the location sold out in just one minute.
– The group is friends with many idol groups including "SEVENTEEN", "KNK", "SF9", "PENTAGON", and "GFRIEND".
– All ASTRO members have worked as MCs.
– The group's first sub-unit Moonbin & Sanha was announced On August 14, 2020.
– On December 27, 2021, Fantagio announced the debut of the second subunit, JinJin & Rocky, which took place on January 17, 2022.
– On February 28, 2023, it was announced that Rocky would be leaving the group because his contract with the company had ended.
– On April 19, 2023, it was reported that unfortunately, Moonbin's manager found him after he had passed away in his home.
Achievements
– Shortly after its release, their debut EP "Spring Up" achieved a ranking of #6 on the Billboard World Albums Chart in the United States and #4 on the Gaon Music Chart.
– In December, Billboard acknowledged ASTRO as one of the best new K-pop groups of 2016. (Billboard)
– Their first subunit, Moonbin & Sanha won their first music show, becoming the fastest K-pop sub-unit to achieve the milestone only eight days after their debut.
Magazines & Endorsements
– They have been featured in endorsements like "Pizza Hut", "LovLu", "Chicken Mania", "Shinsegae Duty-Free" and "Liz K".
– The group has appeared in notable many magazines including "Marie Claire", "Dazed", "ELLE" and "Singles".
Major Works
– Their popular songs include "All Night", "Blue Flame", "Crazy Sexy Cool" and "Candy Suger Pop".
Awards
– ASTRO has won several awards including "Best Musician Award" at the Asia Artist Awards in 2021, "Artist of the Year (Bonsang)" at The Fact Music Awards in 2021, and "Global Artist Award" at the Soribada Best K-Music Awards in 2020.
SOCIAL MEDIA HANDLES
Instagram: @officialastro
Youtube: ASTRO channel
Twitter: @offclASTRO | @jp_offclastro
TikTok: @astro_official
Facebook: offclASTRO
Fancafe: fantagio-boys
Streaming Platform Links
Genie | Spotify | Bugs | Melon | Apple Music | Deezer
ASTRO Members Profile
1. JinJin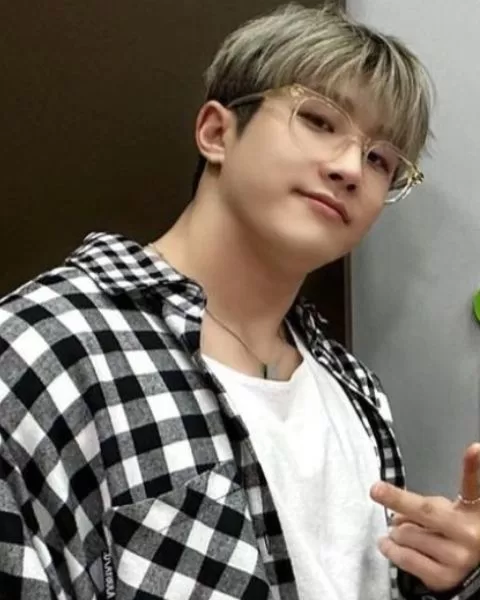 | | |
| --- | --- |
| Stage Name | JinJin (진진) |
| Birth Name | Park Jin Woo (박진우) |
| Position | Leader, Main Rapper, Lead Dancer |
| Birthday | March 15, 1996 |
| Active Years | 2016–present |
| Age | 27 (in 2023) |
| Zodiac Sign | Pisces |
| Height | 174 cm (5'8″) |
| Weight | 63 kg (139 lbs) |
| Nationality | Korean |
| Blood Type | A |
| MBTI | ENFP |
JinJin Facts:
– The fictional character he would be most excited to meet in real life is Rapunzel. (Soompi TMI)
– He is the type that listens to what others have to say so he thinks that is the main reason why all members think he is fit for being the group's leader.
– He likes staying in bed and said the longest place he moves around in is his bed. (Hanryu Pia)
– He has tattooed the phrase "Always be humble" as it is something his mother taught him and he can relate the most to it. (ELLE)
– When he was in first grade he complained a lot that he didn't want to go to school and even ran out of the classroom because he felt that he couldn't go whenever he wanted to.
– A superpower he would choose to have is teleportation because it would be very convenient. (Soompi Soulmate)
– If he wasn't an idol, he believes he would be a drummer just like his father.
– His work mode turns on the moment makeup is applied for the show. (ViVi)
– Wanna One's Ong Sung Woo was his senior in school.
– His first encounter with dance was when he was in fifth grade, his mother took him to her aerobics class and he was mesmerized. (Men's Health)
– JinJin revealed that it is natural for the members to talk for 6-7 hours to resolve any issues within the group.
– He wanted to be a street dancer or dance instructor when he was young. 
– He likes dramas more than movies.
– MJ said that JinJin is a good match as a leader for the group because the members all like the "carrot more than the stick". (Daebak Show)
– His favorite Japanese phrase is "Thank you for being born". (Cancam)
Read more facts about JinJin
SOCIAL MEDIA HANDLES
Instagram: @ast_jinjin
Weibo: ASTRO_JINJIN
Streaming Platform Links
Genie | Spotify | Bugs | Melon | Apple Music | Deezer
2. MJ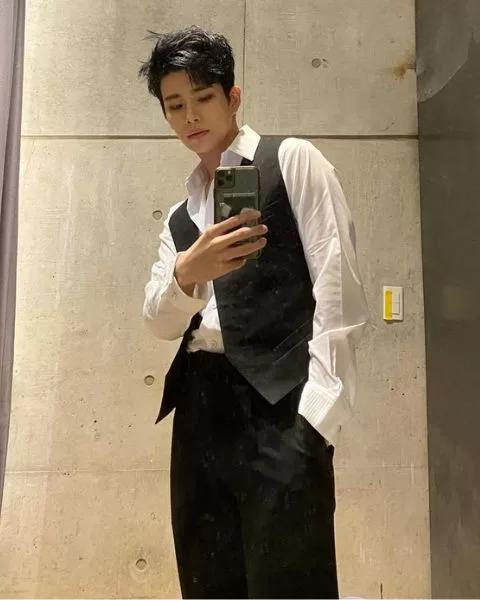 | | |
| --- | --- |
| Stage Name | MJ (엠제이) |
| Birth Name | Kim Myung Jun (김명준) |
| Position | Main Vocalist |
| Birthday | March 5, 1994 |
| Active Years | 2016–present |
| Age | 29 (in 2023) |
| Zodiac Sign | Pisces |
| Height | 175 cm (5'9″) |
| Weight | 58 kg (128 lbs) |
| Nationality | Korean |
| Blood Type | O |
| MBTI | ENFP |
MJ Facts:
– A superpower he would choose to have is time traveling because he would be able to change his past actions. (Soompi Soulmate)
– A Korean dish he would recommend to his fans is bulgogi.
– If he were a teacher, he would teach art.
– His work switch turns on the moment he steps on the stage. (ViVi)
– He wrote the song "Gemini" on their 2nd album "All Yours". 
– He likes to play soccer in his free time.
– If he was any animal, he would be a dolphin.
– MJ would choose Moonbin as the member who has to style his outfit for a week.
– He is considered the happy virus in ASTRO.
– He prefers a perfume that smells like wood. (Esquire Korea)
– He believes he is similar to Sanha in the way that both like to play pranks and their music preferences are also similar. (Marie Claire)
– He said he is not the pessimistic type and doesn't feel sad a lot. (Hallyupia)
– He likes to buy Garigari-kun's soda flavor at the convenience store.
– He would like to visit Universal Studios in Japan.
– If he could go anywhere with anyone, he would go to Hawaii with his members. (The A-Z Question)
– MJ said he is the type of person who stays up all night to make music when he gets in the zone.
– His favorite Japanese food is sushi. (Cancam)
– His most emotional moment is when he is alone as he tends to think a lot. (ELLE Korea)
– The fictional character he would be most excited to meet in real life is Snow White.
– JinJin said that the leader position is too pressuring for him so he is thankful for MJ. (Daebak Show)
Read more facts about MJ
SOCIAL MEDIA HANDLES
Instagram: @mj_7.7.7
TikTok: @astro_mj777
Weibo: ASTRO_MJ
Streaming Platform Links
Genie | Spotify | Bugs | Melon | Apple Music 
3. Cha Eunwoo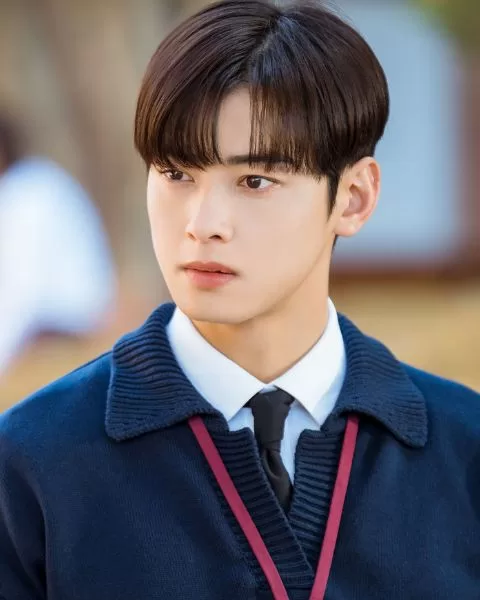 | | |
| --- | --- |
| Stage Name | Cha Eunwoo (차은우) |
| Birth Name | Lee Dong Min (이동민) |
| Position | Vocalist, Visual, Face of The Group |
| Birthday | March 30, 1997 |
| Active Years | 2016–present |
| Age | 26 (in 2023) |
| Zodiac Sign | Aries |
| Height | 183 cm (6'0″) |
| Weight | 73 kg (161 lbs) |
| Nationality | Korean |
| Blood Type | B |
| MBTI | INFJ |
Cha Eunwoo Facts:
– Eunwoo would rather give up on sugar than meat.
– He was surprised to see his own face when his childhood friend studying aboard contacted him after seeing his photo hanging in a duty-free shop. (ELLE Korea)
– His favorite words to hear from others are "You're cool". (Soompi TMI)
– He would teach math if he was a teacher.
– Rocky said that he looks good with silver hair.
– He was fearful of trying out new genres but after his experience in acting in a dark, fantasy, action genre, he is now more open to them. (The KoreaTimes)
– To relieve stress, he usually plays sports like soccer and basketball or reads manga. 
– He would be a teacher if he wasn't a k-pop idol.
– A superpower he would choose to have is the ability to time travel because he's curious about his future self and he would be able to change his past regrets. (Soompi Soulmate)
– His first vacation spot would be Hawaii if he went on a vacation.
– He loves their song "1 in a million" and he often listens to it while in the car.
– He is close with GOT7's Yugeom and Bambam.
– If he was any animal, he would be a deer.
– He learned a newly coined phrase "JMTGR (Jeongmatenguri)" which means really delicious. (CQ Korea TMI)
– He likes perfumes that smell like spring. 
– His life motto is "Know to be thankful".
– He would recommend bibimbap to his fans.
– If Eunwoo had to listen to one song for the rest of his life, it would be ASTRO's song "ONE". (Soompi TMI)
– He loves sleeping a lot and would gladly choose sleep over food.
Read more facts about Cha Eunwoo
SOCIAL MEDIA HANDLES
Instagram: @eunwo.o_c
Youtube: 차은우 CHAEUNWOO
TikTok: @at_chaeunwoo
Weibo: ASTRO_车银优
Streaming Platform Links
Genie | Spotify | Bugs | Melon | Apple Music | Deezer
4. Sanha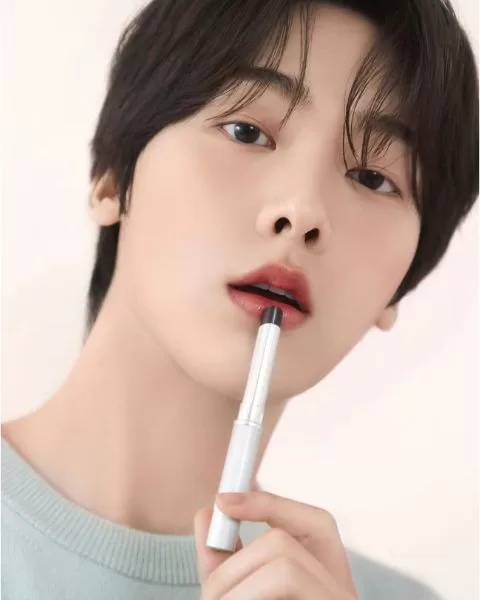 | | |
| --- | --- |
| Stage Name | Sanha (산하) |
| Birth Name | Yoon San Ha (윤산하) |
| Position | Lead Vocalist, Maknae |
| Birthday | March 21, 2000 |
| Active Years | 2016–present |
| Age | 23 (in 2023) |
| Zodiac Sign | Aries |
| Height | 185 cm (6'1″) |
| Weight | 67 kg (148 lbs) |
| Nationality | Korean |
| Blood Type | AB |
| MBTI | ESFJ  |
Sanha Facts:
– Sanha is the youngest of three brothers in his family. (Daebak Show)
– The fictional character he would be most excited to meet in real life is Pororo.
– If he had to be stranded on an island with one member, he would choose to be with himself as a sacrifice. (Guess My Answer)
– He would like to create a perfume that would bring back memories of their debut for their fans.
– Jinjin said that Sanha is the combination of all hyungs and is like a  "sponge"
– His favorite Japanese phrase is "What do you recommend?" because he can get to know delicious items – in the restaurants. He considers it a phrase he shouldn't forget. (Cancam)
– He would like to be in Moonbin's shoes when performing songs on stage. (Hallyutalk Exclusive)
– If he had to choose, he would choose sleep over food.
– A superpower he would choose to have is the ability to stop time because he would be able to do what he wants. (Soompi Soulmate)
– He feels rest and vacation are needed for ASTRO to last so they can relieve stress and keep going. (Marie Claire)
– He finds the smell of the basement the most memorable.
– He is friends with NCT's Haechan and Stray Kids's Hyunjin.
– Moonbin said Sanha is really good at writing melodies.
– If he were a teacher, he would teach social studies.
– A Korean dish he would recommend to his fans is samgyeopsal (grilled pork belly).
– He thinks his strength is that he is the youngest so he acts cute and funny when the older members are having a hard time. (ELLE Korea)
Read more facts about Sanha
SOCIAL MEDIA HANDLES
Instagram: @ddana_yoon
Weibo: ASTRO_尹产贺
Streaming Platform Links
Genie | Bugs | Melon 
Former Members
5. Moonbin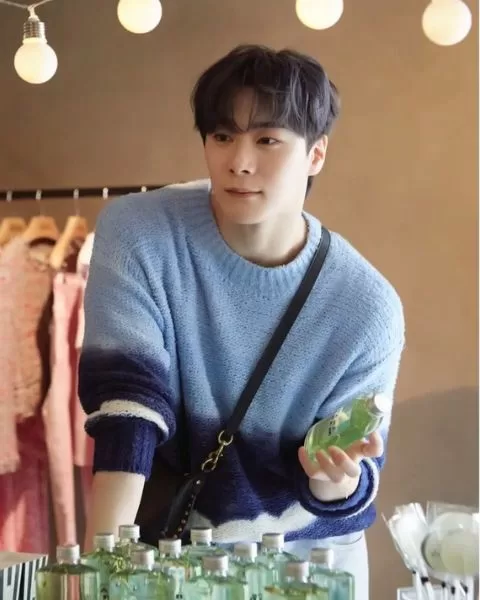 | | |
| --- | --- |
| Stage Name | Moonbin (문빈) |
| Birth Name | Moon Bin (문빈) |
| Position | Main Dancer, Lead Vocalist, Center |
| Birthday | January 26, 1998 |
| Active Years | 2016–2023 |
| Age | 25 (in 2023) |
| Zodiac Sign | Aquarius |
| Height | 182 cm (6'0″) |
| Weight | 68 kg (150 lbs) |
| Nationality | Korean |
| Blood Type | B |
| MBTI | INFP |
Moonbin Facts:
– The fictional character he wanted to meet in real life is Harry Potter.
– He wanted to visit the Taj Mahal and Ganges river in India. (Hallyutalk Exclusive)
– Moonbin's favorite song on their 8th mini album "Switch On" was "Footprint".
– If he were a teacher, he would've taught physical education. 
– He preferred cats over dogs.
– He chose chicken over pizza.
– He had a hobby of writing and liked to use his imagination to condense meanings into metaphors because this kind of imagination helped him on stage or during acting. (Soompi)
– He recommended kimchi to his fans.
– If he was any animal, he wanted to be an eagle. (Soompi Soulmate)
– He wanted to play the role of a villain in his acting career who's somewhat like a psychopath. (Soompi)
– Among ASTRO members, he would choose Sanha who could style his outfit for a week.
– If Moobin could switch parts with another member on the song "ONE", he wanted to choose Rocky's part.
– He preferred mineral water over sparkling water.
– JinJin said that Moonbin was the sharpest with his remarks when giving feedback. (ELLE)
– His favorite words to hear from others were "You're good".
– He loved American football and enjoyed watching NFL games.
– A superpower he would've chosen to have is teleportation because of a movie he watched.
– He would rather have traveled to the past than the future because he believed the future is made of the past and present experience. (Pop Crave Exclusive)
– Unfortunately, On April 20, 2023, he was found passed away in his home by his manager.
Read more facts about Moonbin
SOCIAL MEDIA HANDLES
Instagram: @moon_ko_ng
Weibo: ASTRO_文彬
Streaming Platform Links
Genie | Spotify | Bugs | Melon | Apple Music | Deezer
6. Rocky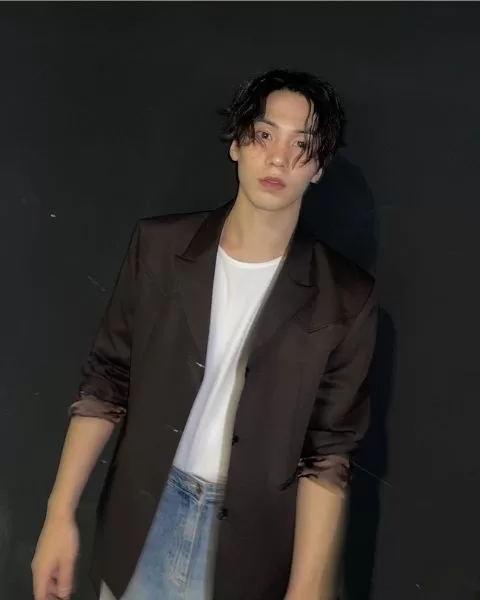 | | |
| --- | --- |
| Stage Name | Rocky (라키) |
| Birth Name | Park Min Hyuk (박민혁) |
| Position | Main Dancer, Lead Rapper, Vocalist |
| Birthday | February 25, 1999 |
| Active Years | 2016–present |
| Age | 24 (in 2023) |
| Zodiac Sign | Pisces |
| Height | 176 cm (5'9″) |
| Weight | 63 kg (139 lbs) |
| Nationality | Korean |
| Blood Type | O |
| MBTI | ESFJ |
Rocky Facts:
– Rocky is the first idol to be from Jinju.
– He participated in a musical theater performance of "Billy Elliot the Musical" before he became a trainee. (Koreaboo)
– He would recommend jeyuk bokkeum (spicy stir-fried pork) to his fans.
– If he had to choose, he would choose sleep over food.
– He likes to play sentimental songs while cleaning the room as he likes to feel like the main character in the movie. (Hanryu Pia)
– His favorite Japanese phrase is "friend". (Cancam)
– He would rather give up on sugar than meat.
– His favorite words to hear from others are "You're cool".
– He likes to eat kimchi a lot.
– He has been friends with SF9's Chani since elementary school. (Anan Interview)
– The fictional character he would be most excited to meet in real life is Heungbu (character from a Korean folktale).
– Rocky became a trainee at the age of 13 in 2012.
– A superpower he would choose to have is the ability to time travel because he would be able to see what it was like before he was born. (Soompi Soulmate)
– He was referred to as the student who dressed well in elementary school because his mom dressed him up well everyday. (Issue Daily)
– His dream was to become a singer since he was 5 years old.
– A person he wants to go back and talk to is his dad when he was the same age as him because he believes he and his dad are similar in many ways. (ELLE Korea)
– It was announced that he left ASTRO and Fantagio Entertainment on February 28, 2023.
Read more facts about Rocky
SOCIAL MEDIA HANDLES
Instagram: @p_rocky
Weibo: ASTRO_ROCKY
Streaming Platform Links
Genie | Spotify | Bugs | SoundCloud| Melon | Apple Music | Deezer
ASTRO Photos
Most Viewed:
Latest Release:
Share these fascinating facts and let the K-pop love spread! 💖🎶 #KpopSingers